Hannah Varga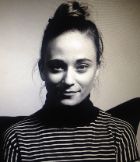 Hannah M. Varga studied material culture/design anthropology (MA) at the University College London (UCL) and Social and Cultural Anthropology at the University of Vienna before she worked at the MAK – Austrian Museum for Applied Arts /Contemporary Art at the design collection. There she contributed to exhibition and research projects such as "2051: Smart Life in the City" a project of the "Vienna Biennale 2015: Ideas for Change" or the anniversary exhibition: "Exemplary, 150 years of the MAK- From arts and crafts to design". After that she joined the IDRV, Institute for Design Research Vienna. Currently, she is a PhD student, researching at the interface between STS and design. She also works in the EU founded Horizon 2020 project "Smarter Together" - Smart and Inclusive Solutions for a Better Life in Urban Areas.
Research Priorities
Social and Cultural Anthropology
Architecture and Design Research
Experimental design practices
Membership
European Association for the Study of Science and Technology (EASST)
Publications
Conference papers
Co-design of smart city infrastructures - Towards an agenda. At 4S/EASST Conference 2016: Science + technology by other means. 31 August - 4 September 2016. Barcelona, Spain.
Thinking with Sensors. Prototyping Publics for Technical Democracy. At Sensor Publics: The Politics of Sensing and Data Infrastructures TUM/Vorholzer Forum. 5 April – 7 April 2017. Munich, Germany.
Exhibition Projects (Assistance and Curatorial Work / A selection)
SMART LIFE IN THE CITY (Vienna Biennale 2015: Ideas for Change). At MAK, Vienna/Austria. 2015.
DESIGN SALON #04: DUNNE & RABY: The School of Constructed Realities. At Geymüllerschlössl, Vienna/Austria. 2015.
DO IT YOURSELF DESIGN. At Museum für Gestaltung— Schaudepot, Zurich/Switzerland. 2015.
EOOS. At MAK, Vienna/Austria. 2015.
EXEMPLARY: 150 Years of the MAK: From Arts and Crafts to Design. At MAK, Vienna/Austria. 2014.
MAK DESIGN LAB. At MAK, Vienna/Austria. 2014.
London URBAN METHODOLOGIES by the Urban Lab, UCL. London. 2013.