Student Contest
The Future of Digital Mobility
Advances in technology and the emergence of "Big Data" are transforming cities and the way people and goods move. Drones are expected to deliver goods, shared autonomous cars may replace taxis and on-demand mobility services are among many other revolutionary changes foreseen for the near future. This call for ideas invites students around the world to submit their ideas, concepts and/or prototypes for using emerging digital technologies and big data to shape the future of mobility.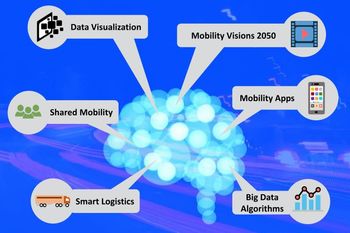 The focus area of the contest covers a wide range of applications of big data and digitalization in transport. For example, you could:
demonstrate your vision of mobility in year 2050
develop competitive smartphone Apps
build data visualization tools to reveal hidden mobility patterns
propose smart freight transport concepts
advance data analysis algorithms for better transport management or
show your prototypes regarding green-transport.
As long as your idea supports travelers, urban planners and/or transport operators to make better decisions, it perfectly matches this call. Below you can find some examples of open data platforms to build up your prototype:
Evaluation Criteria & Eligibility
The winners will be selected in two rounds: in the first round all the submitted applications will be assessed and selected students/groups will be invited to present their idea in an online session to the jury in the second round. Your ideas will be evaluated based on the following criteria:
innovation
originality
competiveness and
readiness for implementation.
Applications can be submitted by individuals as well as teams of up to 5 officially registered students.
Prizes
We will cover the travel expenses up to three winners to attend the mobil.TUM conference and pitch their idea to experts from academia, industry and government.