Job Vacancies: Professorships in Management and Economics with a Focus on Bioeconomy
16.05.2017
as W2 Tenure Track Assistant Professor (with tenure track option to W3) or W3 Associate/Full Professor – open rank mode
---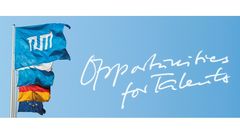 Upon decision of the Bavarian State Government, the "TUM Campus Straubing for Biotechnology and Sustainability" is determined to become the key university hub focused on avantgarde Biosciences. Bioeconomy and Chemical Biotechnology will play a major role both in teaching and research. The Technical University of Munich (TUM) thus invites applications for professorships in Management and Economics with a focus on Bioeconomy as W2 Tenure Track Assistant Professor (with tenure track option to W3) or W3 Associate/Full Professor (open rank mode).
We seek to appoint outstanding experts in the following research areas:
• Economics
• Governance and Economic Policy
• Innovation and Technology Management
• Supply and Value Chain Management
• Circular Economy
Job applications are accepted until 30 June 2017.
Click here for the full job description.
---